Can't Escape From A Horny Nurse. Mr. Holmes was caught by a crazy blonde nurse. Right now he tries to escape from this huge building she captured him in. While doing so and running down the floors, he promptly hops into a random window, in the hope to hide from her there.
Can't Escape From A Horny Nurse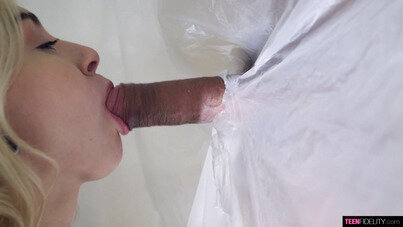 Unfortunately for him, this crazy blonde comes right in after he hides inside. He is sneaking through plastic wrappings but Chloe already feels his naked cock, while groping through it. Obviously, she feels horny from such action and can't stop now. Her main purpose now is to fuck the shit out of him, no matter what.
For a start and warm-up, she cuts through the plastic, releasing his cock. Now she can give him head and make Mr. Holmes hard and ready for action. Then, it is time to bring her dirty plan to life.
Date: January 9, 2021