Meeting Up The Cutest Hooker With Braces. This night, Brad is feeling so lonely. Luckily, he has a cute friend. She is willing to come by and cheer him up, provided he has some buck to pay her for that. Leaving no other thought, he calls her. Shortly, she rings his doorbell.
Meeting Up The Cutest Hooker With Braces
For this night, Brad has an awesome idea about his sexual fantasies. As he explains, he is dreaming so much about a stepdaughter he never had. The one thing he likes the most is to have a horny stepdaughter who wants to fuck him so badly while wearing seductive lingerie. Anastasia is excited to hear that – she loves role-playing games so much. Besides, she just bought a perfect set of lingerie on her way here.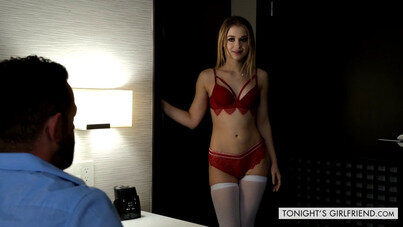 Anastasia gives Brad a peek at her new outfit, before going to put them on. After receiving her payment, she goes to change clothes, to make sure he enjoys the show. After ten minutes she comes out, all in red, just like in his dreams. This night she plays her role perfectly, giving her daddy exactly what he wants…
Date: October 29, 2021