She Didn't Expect Such Cock Size. Carmen is just getting dressed in her room. While doing so, she takes a good look at herself naked in the mirror. Behind her, however, is Tim, her stepbro. As usual, he likes to spy on her through the door, becoming horny already.
She Didn't Expect Such Cock Size
Obviously, Carmen sees him spying quite soon and runs towards him – to close the door on this pervert. But before she does so, he stops her. Since he is so horny after seeing her naked, he offers her to give him head. After a little bit of thinking, she moves him to another room. In there, Carmen shows him her little dildo, hidden under the pillow. The deal here is simple – if his dick is bigger than this toy, she will suck him out. That is so easy – he shows her his cock which is way bigger than her tiny toy.
Not expecting such an outcome at all, she starts doing a nice blowjob for him – a deal is a deal. During the process, she likes it so much and eagerly agrees to try it out inside of her wet pussy…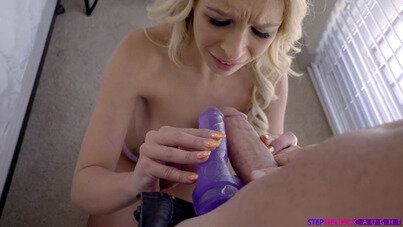 Date: November 1, 2021