Daddy Finally Caught Me Naked. Khloe is so addicted to her stepdad that she keeps trying to seduce him every day. While living together, she tries different things on him. This day, she just walks around the house, wearing only her underwear. This keeps him on his toes for sure.
Daddy Finally Caught Me Naked
Time to try another stunt – going to the shower. While cleaning herself up, she starts masturbating and moans loudly, making sure he hears it from his room. After taking care of her pussy, she then asks him to pass the towel to her. As soon as he enters, he sees her fully naked in the shower room. This makes him uncomfortable for sure so he tries to get back to his room as soon as possible. He just goes back to his TV.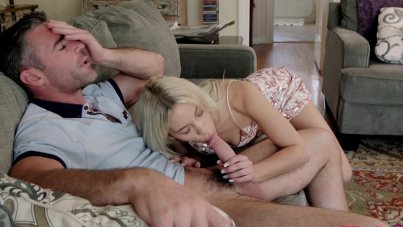 His little stepdaughter arrives back from the shower. This time, she is wearing shiny sexy clothes – just for him. The thing is that Khloe only wants to make him feel good during these moments. She knows that he has issues with his wife currently, so why not give him a nice teen pussy when he needs it so badly…
Date: October 29, 2021