Skinny Brunette Ass Fucked In The Hotel. Vina is having an awesome time with her boyfriend. This evening, they went to a night club and other perfect night places. Since there is still a lot of time till the morning, she decides to spend it with him in the hotel room.
Skinny Brunette Ass Fucked In The Hotel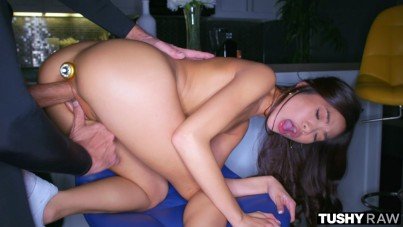 When Vina enters his hotel room, she surprises her lover with a cute butt plug being already inside of her. Vina kneels down on her knees while playing with that butt plug. Her lover needs a little warmup before penetrating her asshole, so she does a nice blowjob for a start.
After she is done with cock sucking, it is time to take out her butt plug eventually. Now, he can replace it with a bigger toy – a real cock. Vina wants him to fuck her in several positions including doggy and cowgirl. Since he loves his girl so much, he'll happily comply.
Date: February 4, 2021