Stepsis Can't Stop Watching Porn. It was going to be a funny relaxing Saturday. Abella's parents are gone to play golf for a weekend. Also, her stepbrother is gone surfing, as usual. So now, she has the whole house entirely to herself.
Stepsis Can't Stop Watching Porn
Nobody can disturb Aballe while she is studying the topic with which she became obsessed – porn. However, this is a special niche of porn – anal sex. She finds it especially sexy when the girl likes to take it up the ass. It is so hot and she wants to try it out with someone for a while now.
Continuously walking around the house, Abella gently touches herself while watching videos on her phone. She takes her laptop with a bigger screen and makes a stop at the white sofa in the middle of the room. This is a perfect place to use the new toy she bought today.
Her stepbro came home super early though. At first, he stays behind her back to watch his stepsis pleasuring herself. But soon, she notices him. Seeing how his cock became hard in his pants, she now forces him to help her out with this overwhelming wish…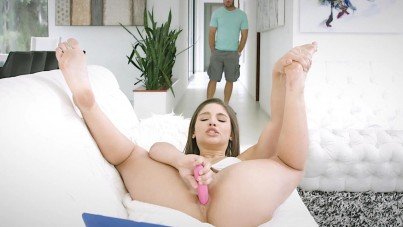 Date: December 22, 2019