A Guy From Security Company Came In. While Alexis is relaxing in the backyard, he knocks the door. She is in a great mood today and keeps smiling to him. Alexis needs to install several cameras around the property. To show him the place, she takes his hand and walks him through the house.
A Guy From Security Company Came In
The first room is her bedroom. Alexis takes her time to bounce on the bed in a seductive way, making sure of getting his attention. Then, she takes his hand again, to show the bathroom. In there, she bends over so he can see her ass, before walking into the next room.
After showing him the whole place, he sees that she already has some cameras installed. Alexis leaves him now, so he can do his job. However, upon peeking into the pool camera, he sees her masturbating out there, using a dildo. He decides to postpone his camera work now, to join this horny girl and help her out.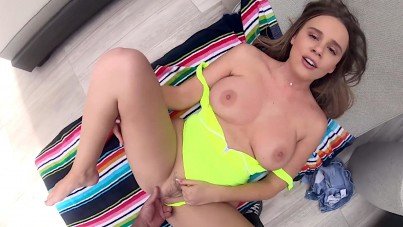 Date: January 15, 2020