An Orgy With Three School Girls. Kenzie Reeves is a university champ. She has some interesting topics she will be working on today, along with her school friends. This day they will also film this whole debate on camera and she feels super excited.
An Orgy With Three School Girls
Today debate team's topic is sex education at school and should it exist or not. Kenzie is up for it but wants to hear an opinion of other girls. Girls just knock on her door and she lets them in, so they can take a seat on a couch and proceed with the upcoming debate.
Girls take turns to voice their thoughts in front of others. A bit later, their professor arrives so Kenzie asks him to join them – they need a fresh opinion on the topic. While girls are doing their speeches, he slowly undresses, to give them a more realistic example on the topic. Finally, he releases his dick and Kenzie can't resist it – she comes closer to check it out. Then, she becomes so horny so starts doing the most inappropriate things and even strokes his cock.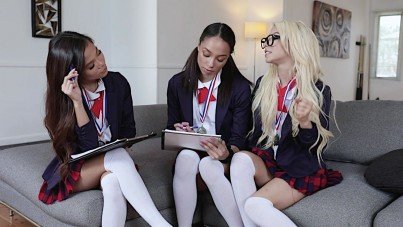 Date: January 20, 2020