Temporarily Living At His Place. After having some issues with her mom, Kali is forced to live with her stepdad temporarily. She tries to settle in and her daddy pays a visit to her room, while she is unpacking. He is here to explain his house rules which she has to abide if she wants to stay.
Temporarily Living At His Place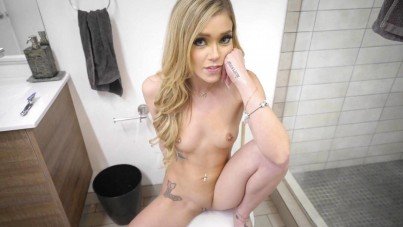 Kali never had any house rules so she is curious about what he is going to say. First, she shouldn't be going out past ten. This really pisses her off, and she just can't hold her emotions. The next rule is that she also cannot use his car past that time. He suggests that she can do more important things at that time. For example, do her homework or clean the dishes. Although Kali is pissed for sure, she has no choice though, so agrees with all of that.
The next day, he comes home after a night shift and sees her watching the TV. After coming closer, he also notices that she doesn't have her panties on. Kali has a solid response to that: "Who cares". Since her mom isn't around, she even flashes her pierced tits to him. Kali explains to him her idea: he can lift his rules for her, and for that, they can have a little fun with each other…
Date: November 28, 2019