Stepsis Is Sleeping Without Panties. His blonde stepsister, Serena just arrived from work. She is so tired – her boss was really mean to her and forced her to work like a slave the whole day. Serena can't do much about it though – she needs to pay the bills and it is hard to find a better job nowadays.
Stepsis Is Sleeping Without Panties
Serena then asks how her stepbro's day went by. But as soon as he begins, she starts feeling extremely sleepy. In no time, she just starts sleeping next to him on a couch. It turns out she is indeed super exhausted.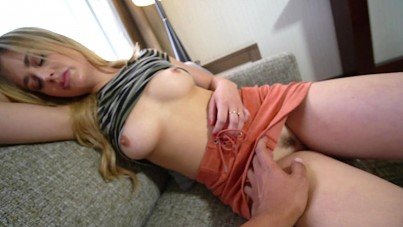 Curious stepbro uses this moment to check out her perfect legs. Then, he sees that she wears no panties whatsoever. He spreads her legs a bit more, to have a better view. Trying to not wake her up, he lifts her shirt a bit, to expose her titties the same way. Now, it is a perfect moment to masturbate. However, she caught him during the process.
The other day, she also caught him sniffing her panties. However, this time she feels a little more horny than before so takes some extra time to hang out with a stepbro…
Date: December 19, 2019