Natalie And Her Lesbian Friend. On her way to her boyfriend Jonny, Natalie meets her old friend, Bella. She tells her that he just left from his friends so Natalie is a bit late. Nonetheless, Bella welcomes her to stay, since they are like sisters and haven't seen each other for a while.
Natalie And Her Lesbian Friend
Actually, Natalie broke up with Jonny recently, so she has no good news to share. Even more than that, she thinks she is a lesbian. However, she has not been with other girls before – she is too scared to even start. Bella suggests to help her out since she is a lesbian herself and knows Natalie for years. Obviously, Natalie is willing to give it a try, provided no one else will know about it.
After that, Bella takes her inside, to share her experience with such a newcomer. Girls enter the bedroom and sit down on the bed, making themselves comfortable. Now, it is time to have some lesbian love with each other…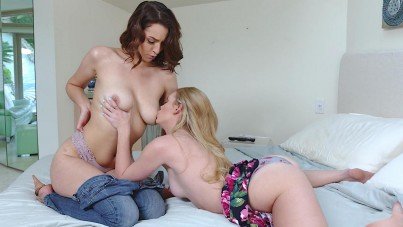 Date: January 17, 2020