Making This Holiday Even Better. Lexi and Vienna are preparing to celebrate the independence day. For that, they painted their naked bodies into an American flag. While girls were discussing it in Lexi's room, her stepbrother is sneaking on them while they are distracted.
Making This Holiday Even Better
Soon he barges into the room, letting them know he is here. Lexi tells him to go away since they are naked in here and he can't touch them – their paint should stay intact. Now he is horny as fuck and says that he won't go anywhere until they make him cum. Having nothing else to do, Vienna starts touching his dick, in order to help figure the situation out.
While watching her friend being banged, Lexi finally agrees to have her pussy pleased as well. But nonetheless, he can't get her paint being smudged at all costs…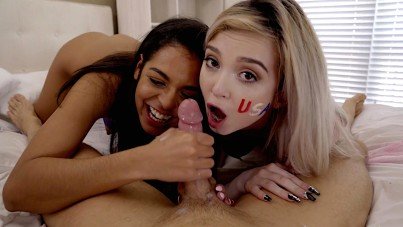 Date: February 28, 2020