Older Guys Is What She Likes. Jim gives a ride to his son's blonde girlfriend, Chloe. She is so happy about that – her car is broken since recently, she has some issues with brakes there. Luckily for her, Jim wants to take a look at the car and fix it a bit later. This makes this teen girl even happier.
Older Guys Is What She Likes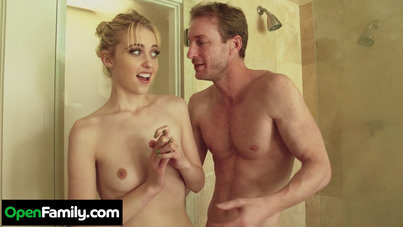 Meanwhile, they both are just sitting in the car, having a chat. Chloe tells him about her plans with Jim's son and the movie night she will be spending with him. In the meantime, Josh is not home yet, so Jim suggests for her to wait for him inside. He also noted that there is a shower so she can get cleaned up before the movie night with his son.
After hearing about the shower, Chloe goes in there right away and starts undressing. While taking a shower, Jim enters the room, leaving Chloe a bit perplexed, standing naked in front of her. He just wants to hop into the shower alongside her. He also mentions that they are an open family, so it is okay to share partners with each other.
Since older guys is what Chloe likes the most, she is totally okay with such an idea herself and already grabs his dick…
Date: December 1, 2020