Celebrating With A Stepbro. Hazel Moore is talking on the phone with her friend. It's the fourth of July and her family is celebrating it loudly. They are still gathering together but Hazel is afraid of fireworks, because of the incident she had last year.
Celebrating With A Stepbro
Before she goes to greet the remaining guests, she decides to relax on a bed and masturbate for a while.
They were partying the whole day, and Hazel feels exhausted. When the night came, her stepbrother scared her with a firecracker again, so she goes upstairs, back to her room. She is pissed at him and decides to forget it by taking good sleep. Her stepbro though feels guilty of that and also comes into her room. He promises to make her feel comfortable and sleep in the same bed. During the night Hazel becomes aroused after seeing his hard dick, so decides to have a decent fuck.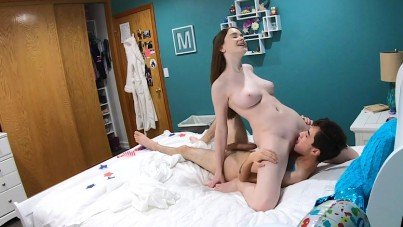 Date: December 29, 2019