Her First Sex Experience. Lucy Blond recently made an important decision in her life. Since she has no experience with guys, she decided to lose her virginity to an experienced actor, Tommy. To assure the audience that nothing bad is happening, she tells on camera that this is her own choice.
Her First Sex Experience
Since it is her first time, they have a little interview with her. Lucy confirms that she is eighteen already so no further questions are needed. But still, she feels a bit worried.
During the interview, Lucy tells about her talks with friends and how their first experience felt. The main thing they told her is that there will be a little pain at first but will feel awesome afterwards. Also, Lucy tells a story about how she loves playing with herself in the shower and how good it feels.
When their little chat is over, it is time for her partner to start gently on her. First, they slowly start making out with each other. Then, he begins to lick her pussy for some time, leaving the main action of deflowering to the end…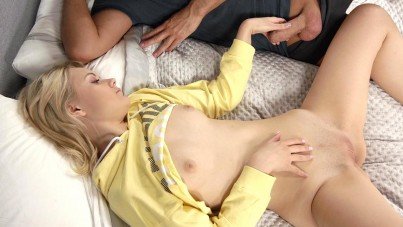 Date: December 1, 2019