Time To Rob A House And Fuck Inside. The dudes, known as "Ride or die" are still free. They are riding and terrorizing wealthy homeowners, across California. Luckily enough, no deaths have been reported so far. However, victims reported sexual undertones throughout their spree. They believe that these burglars can easily escalate into something more sinister.
Time To Rob A House And Fuck Inside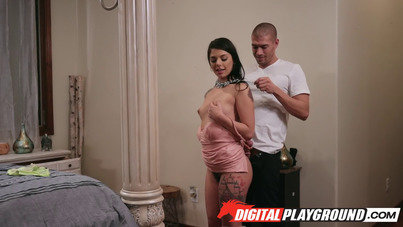 Crime reporter Angela, gives a short interview on camera, explaining that this couple feels sexual arousal while doing their crimes. This is why they fuck in every victim's house. Angela assures though, that her team will bring these two to justice.
Today, tatted chick Gina and her lover are robbing another house, with a rich and fat owner. As usual, Gina pretends to be an innocent stranded girl, luring into the house. After bonding him with ropes, it is time to mock the old dude for a while. But soon, this couple becomes horny, obviously. So they move into another room to have some time alone with each other and complete their ritual…
Date: January 5, 2021