Living With A Perverted Stepdad. Gia is living with her annoying stepdad and he is clearly immoral with such attitude towards her. When he is around, he always grabs and spanks her ass without any shame. However, she secretly likes it, and it turns her on in some way.
Living With A Perverted Stepdad
One day, while Gia is occupying the bathroom, he sneaks on her again and grabs her ass. It is his time to take a shower so he tells her to go out and free the room. Gia however, has a dirty prank in mind. She flushed the toilet and he got his dose of hot water on his head. While she thought that she finally got him, he was already behind her, watching her laughing. So he decides to cut her little panties and spank her naughty ass. As a result, she even responds that she likes it and it is no harm at all. Also, his towel fell off and Gia even dared to suck his dick. Now he can fuck her in the mouth and drill her throat freely. Also, this is a perfect time to finally treat her wet pussy with a daddy's cock.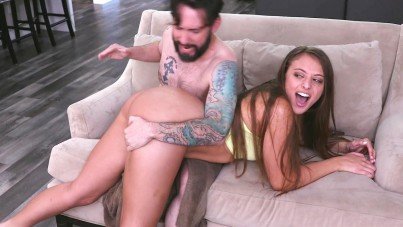 Date: November 26, 2019