Finding Their Missing Chinese Girl. Two guys driving their van around the city to find some chick to have fun with today. They already started to lose hope, but suddenly saw a cute asian girl, waiting for a bus. It seems like a perfect opportunity and this is just the girl they were missing.
Finding Their Missing Chinese Girl
After politely asking her to come over, she agrees on having a little chat with them. The guy who is handling the conversation with her keeps waving cash in front of her face, to keep her hooked. While she is standing out there wasting her time, he keeps rewarding the girl with cash. Their conversation goes a little further since she already flashed her tits in front of him. Next, he asks her to join him in the van, to continue their talk in a more private manner. There is a decent amount of cash he offered for that, so she happily agrees. Also, he keeps her cheered up, while she accepts his next offer – to get naked and show her pussy.
Soon, this little Chinese girl even agrees to fuck his friend, since she just doing in for fun in her free time…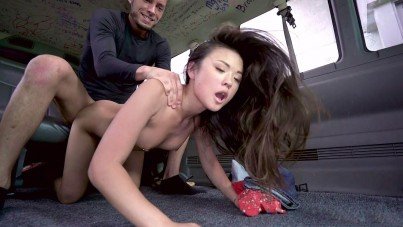 Date: November 29, 2019