Her Talent Being A Submissive Girl. Up until this day Autumn enjoyed power exchanges, compared to conventional relationships. Now she has fallen for a dominant behavior, where the rules and roles were clearly defined. She was a submissive and he was the dominant one.
Her Talent Being A Submissive Girl
Autumn was willing to do whatever he asked her, without any boundaries. She never experienced this kind of relationship before but decided to venture into new territory, not knowing what waited for her. While still a bit worried, she decides to do something special this time.
Today, her young husband bonded her arms and legs firmly, so she cannot move. Then, he slowly spanks her pussy with his whip. It is clear that Autumn loves such a dominant move from him – she can't be happier that she is now. This spanking is just a warm-up for her, the real fun and bondage is just about to come.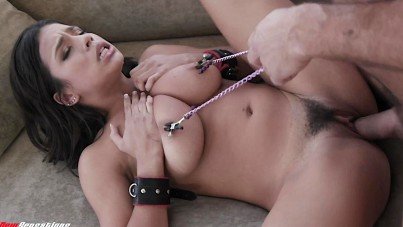 Date: January 30, 2020