Spy Neighbor Got Lucky. While Kenzie Madison is laying at the backyard pool and listening to music, her curious neighbor is spying on her. She noticed him quite fast, but he doesn't know it. Kenzie tries to keep it to herself for now and let him watch a bit more.
Spy Neighbor Got Lucky
At first, she wiggles her butt so he can see it clearly. Then, she stands up and applies a suncream, massaging her tits and ass during the process. After applying the cream on her ass for some time, she sees how he is still watching, and not coming closer.
Now, it is time for Kenzie to take action herself. She stands up and goes inside the house. But on her way there, she gives him a sign to join her, so he can stop spying now. Kenzie didn't get male attention for a while and wants to fuck now after such a situation. When he comes in, she immediately takes him to the bathroom, to have some private time with the stud in there. Her cream is useful here – she applies it on his dick, preparing him for the upcoming action…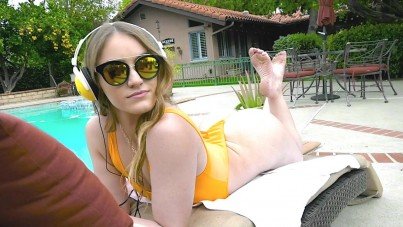 Date: December 25, 2019