Shy Nerd Is So Good At Fucking. David is helping out his sister's friend, Channel, with her studies. He seems so cute and smart – explaining to her every question she has. But there is a problem – he is a nerd and so shy. With this in mind, it is so hard for her to flirt with him.
Shy Nerd Is So Good At Fucking
Channel keeps thinking about him and decides to take a little break from lessons. Then, she moves closer and starts asking if he has a girlfriend. Definitely, she begins to hit on him and takes off his glasses. At this point, she just wants to fuck him no matter what. David sees it and runs away to the bathroom, all worried. Now Channel gets the idea that he is a virgin for sure.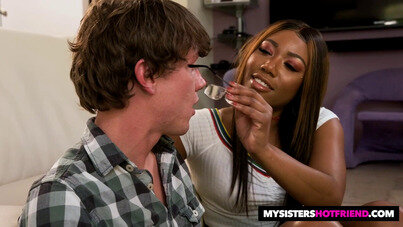 After a while, David goes out of the bathroom and notices that something is up – Channel is laying half-naked in his bed. As he soon finds out, his sister told her that he is a virgin, so her friend is craving to help him out with that. But obviously, his sister doesn't have to know about this little break from studies…
Date: October 27, 2021