Stepsister Got Caught With A Dildo. Kendra is having a hard time paying her rent, so she came up with the idea of being a webcam girl. While she is being alone this morning, she decides to give it a try. To start, she takes her handy dildo and begins to stroke it on camera.
Stepsister Got Caught With A Dildo
Everything goes well, and she even got some horny viewers on her new show. However, her stepbro, Daniel, is watching her through the door. Soon enough, she understands that she was caught. Having no other options, she invites her stepbro to come in and talk about it. Kendra explains to him her rent situation and how she loves to stroke cock, while pleasing all those horny guys in the chat.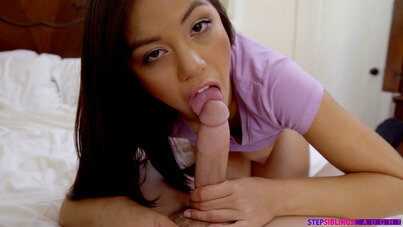 Since they are now alone in the room, Kendra wants to stroke his cock as well – not this boring dildo. Besides, her audience would love to see a real fuck, that's for sure. Daniel tries to be a loving brother. Even though he resists the idea, but eventually agrees to help her out, providing his cock for her. Now, they will surely get more subscribers.
Date: October 27, 2021