Hot Stepdaughter Is Ruining My Marriage. Jacob just woke up and sees his redhead stepdaughter Danni in the kitchen. She is just taking some stuff from the fridge. But by doing that, this teen redhead already gives him a decent boner and makes him horny.
Hot Stepdaughter Is Ruining My Marriage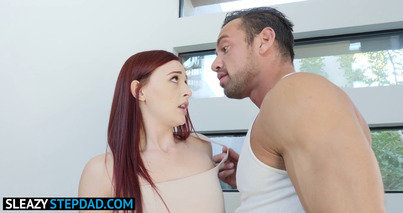 Danni tries to be a good stepdaughter for him. Feeling concerned about his marriage, she doesn't want to ruin it. So eagerly goes away upon noticing him flirting with her. Jacob sees Danni's comb which she just forgot on the table. Right away, he caught up with her, making a compliment about her sweet ass, as she goes upstairs.
At this point, Danni is not caring about saving his marriage – she just became horny herself after so much male attention towards her. Danni moves a bit down to finally warm him up with a nice blowjob. While giving him head, she can't wait to have a private time with him in the bedroom, where he can please her pussy just like she wants.
Date: December 2, 2020