Teaching Her To Be Submissive. Lexi is a naughty girl – she loves to do what is forbidden for her. There is her stepdad's cupboard with a large collection of booze. He told her not to touch it and just stay away at all costs. But she won't listen.
Teaching Her To Be Submissive
Lexi thinks that her daddy is not home and sneaks around his cupboard. She takes out one special liquor bottle she loves the most, trying to take a sip. Unfortunately, her daddy was watching her from behind this whole time and prevents her from achieving this dirty plan. Now, he needs to teach her a lesson.
Since she is trying to act like a big girl, he decides to teach her how to be a real submissive woman. He sits on a couch with her and spanks her ass – she needs to be treated like a big girl now. But Lexi just laughing on that, making him feel that this is a joke for her. As a result, he decides to spank her without panties.
Surprisingly, his stepdaughter loves such spanking as well, so it's time to treat her with decently-sized daddy's cock…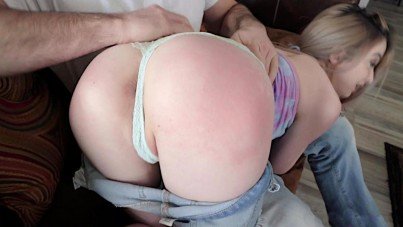 Date: January 4, 2020