What Her Daddy Really Means For Sophia. Sophia looked forward to this day for months. It is the perfect time when she can be alone with her stepfather, Charles. While her mother is on a business trip, she can be chill and not fight for his attention today.
What Her Daddy Really Means For Sophia
This morning, he took her to a place he used to hike before and shows her some wildlife outdoors. This way he shares the knowledge with his girl and shows his masculinity. When they are finally back home together, she has the only one way to thank him. Sophia starts touching herself and makes sure he is watching it. After she puts her fingers on her pussy, he just can't take his eyes off her. This young girl he was nurturing for years is now pleasuring herself for him. So today is her opportunity to share with him what she has fantasized about for a long time. And today he can't deny her.
During the process, Sophia finally understands what her daddy really means for her. After watching her and making sure she is ready for this, he starts to touch her pussy himself. He asks her to take her panties off, to have a better look at her shaved pussy and eventually, fulfill the desires of his little blonde girl…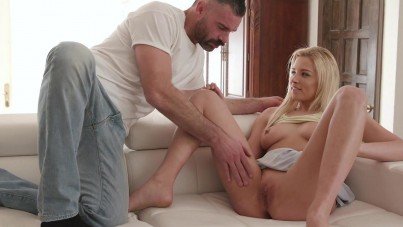 Date: November 30, 2019