Chanel's Way To Celebrate. It is the 4th of July and Chanel Shortcake has her own way of celebration. Today, she stays in her backyard to have some fun on her own. Also, her boyfriend is about to come to bring her additional happiness. Since it is so hot today, Chanel wears only her tiny panties and bra.
Chanel's Way To Celebrate
To bring a national spirit along, tiny blonde waves American flags and occasionally flashes her small tits and pussy. As a result, she feels horny from the process. In order to relax a bit, she takes a dildo she hidden before, to please herself while waiting for her lover.
Chanel already finished masturbating and sees how he joins her in the backyard. At first, she shows him everything she prepared, and they play a little game together. But still, she flashes her pussy during that making sure he sees it. Eventually, she takes off all of her clothes and starts giving him head, to celebrate it in a more intimate way.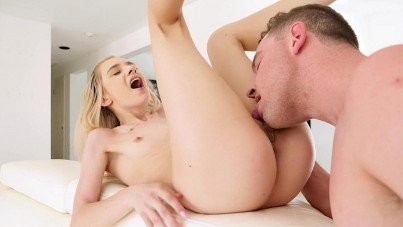 Date: December 28, 2019