Meeting His Hot Daughters. Josh is having a 4th of Jully party with his daughters. Unfortunately, there is no one else, so he brings his friend Jacob along, to celebrate it together. While they having a drive home, Josh's daughters are preparing the house for the party.
Meeting His Hot Daughters
Upon entering the apartment, Josh introduces Jacob to his two sexy daughters and shows him his room. While girls are alone, Bella thinks that that dad's friend is kinda hot and tells Daphne that she will definitely fuck him. It's a good thing because he probably has lots of money since he is from California.
Guys return downstairs. Now, Bella starts being naughty. Occasionally, she flashes her tits to Jacob, while daddy is distracted. Jacob is in good bonds with her dad and such slutty behavior pisses him off, so he leaves the room.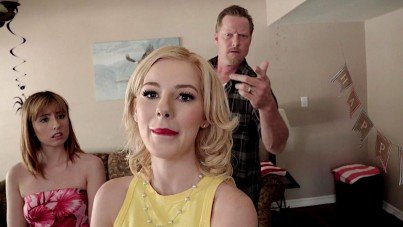 The next day Jacob is having a conversation with his other daughter, Daphne. She feels sorry for sister's behavior. Daphne seems like the opposite of her sis, and this turns Jacob on. Next, they start making out with each other. They didn't know though, that Bella saw them together and now tries to blackmail Jacob. He is forced to talk this through in her room now.
Jacob and Bella are now fucking each other upstairs and Daphne comes in abruptly. Bella shows the pictures she took, forcing her to join them and suck his cock as well…
Date: January 8, 2020