Skinny Newcomer Is Excited To Fuck On Camera. Kyler is just turned eighteen and wants to do porn no matter what. Because this is where she can get decent cash and satisfaction at the same time! With the help of mutual friends, she managed to get into the porn studio, where she is being interviewed. Soon, she will be filmed in one of her first movies.
Skinny Newcomer Is Excited To Fuck On Camera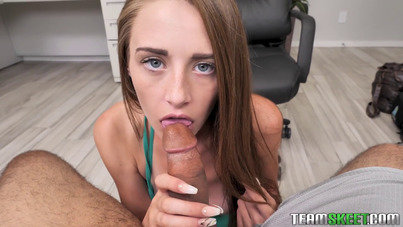 For a start, Kyler shares some of her porn preferences – what she loves to watch herself. In the meantime, she undresses, to continue this interview completely naked. On camera, she then explains how she likes to make a dick hard and how to tease a guy. Then, Kyler goes into her bag, to try on a cute set of clothes she brought up for today.
Finally, she puts her hand into his pants, to play with his cock and demonstrate her skills. During their time together, this skinny brunette newcomer gets her pussy pleased for sure, as well as being pleased financially.
Date: December 18, 2020